Reservation U.WE Mobil Lastenrad
U.WE Mobil Lastenrad
Lastenrad
BBF Miami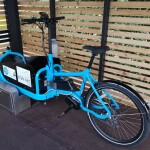 Child seat/safety device: No
max. payload: 70 kg
Length of the loading area: 60 cm
Width of the loading area: 27 cm
No box
Description and limitations:
Das Lastenrad ist in das Carsharing U.WE Mobil eingebunden. Für die Nutzung muss man sich beim Verein registrieren = eine Mitgliedschaft anmelden. Registrierung unter www.uwemobil.at
Pick up location:
U.WE Mobil - Lara Port Ottensheim : 1.) Registrierung auf www.uwemobil.at 2.) Einschulung durch Ortsbeutreuer + Erhalt einer Zutrittskarte 3.) Online Buchung auf www.uwemobil.at 4.) Verleih und Rückgabe an der Station Lara Port Es gibt 2 Arten von Nutzungsgebühren für WENIG FAHRER*INNEN € 10,- / Stunde* max. € 10,-/Tag für VIEL FAHRER*INNEN € 10,-/Monat* Buchungsdauer max. 48 Stunden für Vereinsmitglieder die den Mühlferdl Carsharing Tarif bezahlen, ist die Nutzung des Lastenrads kostenlos.* *zur Aktivierung werden einmalig € 20,- verrechnet.
When you click on the calendar, a period of two hours is marked. You can drag this downwards with the mouse or extend it on your smartphone by briefly pressing and holding down. You can also select a period of several days if this transport bike is lent overnight.

As an alternative to entering the pick up and drop-off time, you can enter your desired time period directly in the calendar below.