Reservation Leila
Leila
Lastenrad
Family Bikes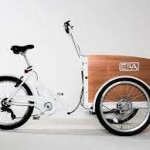 Child seat/safety device: Yes
max. payload: 100 kg
Length of the loading area: 84 cm
Width of the loading area: 55 cm
Non-lockable box
Pick up location:
Bewohnerservice Aigen & Parsch : Öffnungszeiten: Montag 9-13 Dienstag, 9-13 und 14-16 Donnerstag, 13-16 Freitag, 9-12
When you click on the calendar, a period of two hours is marked. You can drag this downwards with the mouse or extend it on your smartphone by briefly pressing and holding down. You can also select a period of several days if this transport bike is lent overnight.

As an alternative to entering the pick up and drop-off time, you can enter your desired time period directly in the calendar below.