Reservation LaRa 2
LaRa 2
Lastenrad
Winther Cargoo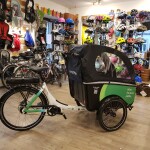 Child seat/safety device: Yes
max. payload: 100 kg
Length of the loading area: 86 cm
Width of the loading area: 70 cm
Non-lockable box
Description and limitations:
Verleih nur für Personen über 18 Jahre. Das Lastenrad eignet sich besonders gut für den Transport von Kindern, aber auch für größere Einkäufe. Bitte beachte die maximale Gewichtsgrenzen mit 100kg.
Pick up location:
When you click on the calendar, a period of two hours is marked. You can drag this downwards with the mouse or extend it on your smartphone by briefly pressing and holding down. You can also select a period of several days if this transport bike is lent overnight.

As an alternative to entering the pick up and drop-off time, you can enter your desired time period directly in the calendar below.