Reservation Eggenberger Lastenrad
Eggenberger Lastenrad
Lastenrad
Johnny Loco Lima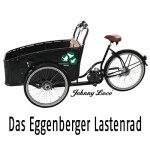 Child seat/safety device: Yes
max. payload: 50 kg
Length of the loading area: 102 cm
Width of the loading area: 57 cm
Non-lockable box
Description and limitations:
ACHTUNG: Dieses Lastenrad wird momentan nicht verliehen! E-Cargo "LIMA" 7-Gang Rahmenhöhe 53cm Das Cargo E-Bike setzt neue Standards für Lastenräder mit Antrieb. Durch die Kombination mit dem Shimano STEPS System bietet das LIMA Fahrspaß auf hohem Niveau. Der Alu-Kasten, das leichte Shimano-System mit der leistungsstarken Lithium-Ionen Batterie und dem intelligenten Batteriemanagement-System bieten die optimale Balance zwischen Reichweite, Leistung und geringem Gewicht. Dieses Cargo E-Bike bietet unvergessliche Momente und lädt zu langen Ausflügen mit Kindern, Hunden, Gepäck oder was auch immer Sie gerade transportieren wollen.
Pick up location:
When you click on the calendar, a period of two hours is marked. You can drag this downwards with the mouse or extend it on your smartphone by briefly pressing and holding down. You can also select a period of several days if this transport bike is lent overnight.

As an alternative to entering the pick up and drop-off time, you can enter your desired time period directly in the calendar below.