Reservation urban arrow shorty
urban arrow shorty
Lastenrad
urban arrow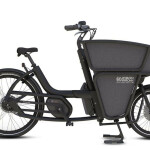 Child seat/safety device: No
max. payload: 190 kg
Length of the loading area: 60 cm
Width of the loading area: 70 cm
Lockable box
Description and limitations:
Nur nach Registrierung auf www.safetydock.at kostenpflichtig leihbar. Kosten: 6€ pro Stunde. 40€ Pauschale pro Tag. Zulässiges Gesamtgewicht: 190Kg Fahrrad + Fahrer + Ladung. Gewicht des Rades: 46Kg
Pick up locations:
Verein Linzer Lastenrad
Safetydock am Stifterplatz : In der Fahrradabstellanlage (Safetydock) am Stifterplatz. Nur nach Registrierung auf www.safetydock.at kostenpflichtig leihbar.
Teststandort
Personenloser Test-Verleihstandort (mit elektronischem Schloss) : Öffnen des Schranks
Umdasch Stadion
Fixed price:
6.00€ / Hour
When you click on the calendar, a period of two hours is marked. You can drag this downwards with the mouse or extend it on your smartphone by briefly pressing and holding down. You can also select a period of several days if this transport bike is lent overnight.

As an alternative to entering the pick up and drop-off time, you can enter your desired time period directly in the calendar below.